Mainstream movie theaters are great for seeing the latest blockbusters, but sometimes you want to watch something different. Maybe an independent or foreign film…or a cult classic like Purple Rain or Rocky Horror Picture Show. Fortunately, Pittsburgh has no shortage of Indie theaters in and outside of city limits, so if you're looking to indulge your inner movie buff, look no further.
ROW HOUSE CINEMA
Row House is unique: it showcases more popular movies alongside lesser-known films. Each week there's a new theme, ranging from an actor to genre to director. Four films fitting the theme are chosen and played throughout the week. It also plays host to a few film festivals, such as the Harry Potter Film & Cultural Festival or the Pittsburgh Japanese Film Festival.
Most Notable Feature: The neighboring store Bierport, owned by the same people, sells alcohol and other drinks to enjoy during the show. It's also housed in a row house, which is typical architecture for Pittsburgh homes, but atypical for housing a movie theatre.
THE OAKS
This classic one-screen theater went through a renovation a few years ago, adding cabaret-style seating and restoring the signs and marquee. Although movies- both mainstream and independent- are shown, The Oaks also acts as a live venue for comedy groups and musicians. The new snack bar features a menu with flatbreads and wraps, plus a full bar.
Most Notable Feature: Cinebrunch, where classic movies are shown while guests can enjoy a delicious Sunday brunch, catered by nearby food staple the Oakmont Bakery.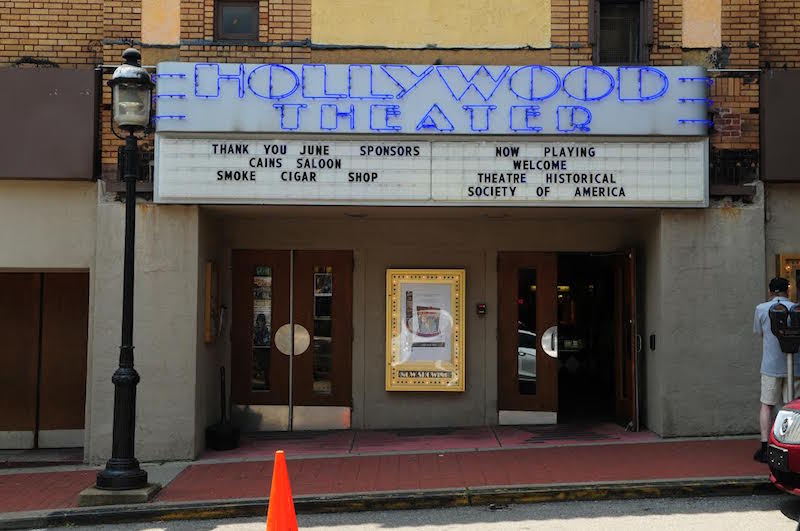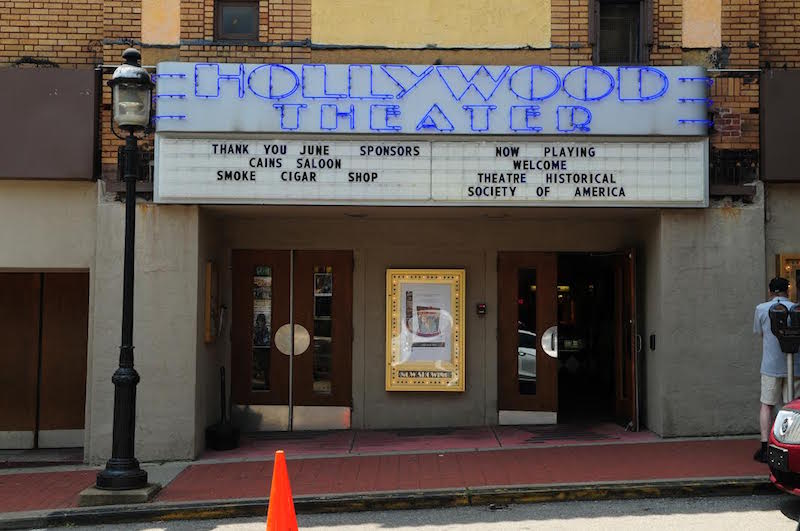 HOLLYWOOD THEATER
Located in Dormont, this humble locale has a rich backstory and even richer lineup. Films range from anime imports to current box office smashes. The theater holds the distinction of being owned by the Theatre Historical Society of America, ensuring its legacy and glamour will be held up for years to come.
Most Notable Feature: The Hollywood Theater has regular showings of The Rocky Horror Picture Show, complete with live actors and audience partici… pation.
THE MANOR
Much like the Hollywood Theater, The Manor plays both independent and major studio films. This variety makes it popular with anybody, especially with the cheaper ticket prices. The M Bar offers an array of snacks both traditional and creative; few other movie theaters can say they serve both popcorn and pot stickers.
Most Notable Feature: The Manor recently opened The M Bar, with upscale concessions, signature cocktails, wine, and beer…that you don't just have to drink at the bar. You can now sip martinis with Bond or enjoy a white russian with Lebowski. Whatever signature drink your hero prefers, you can now enjoy it alongside them.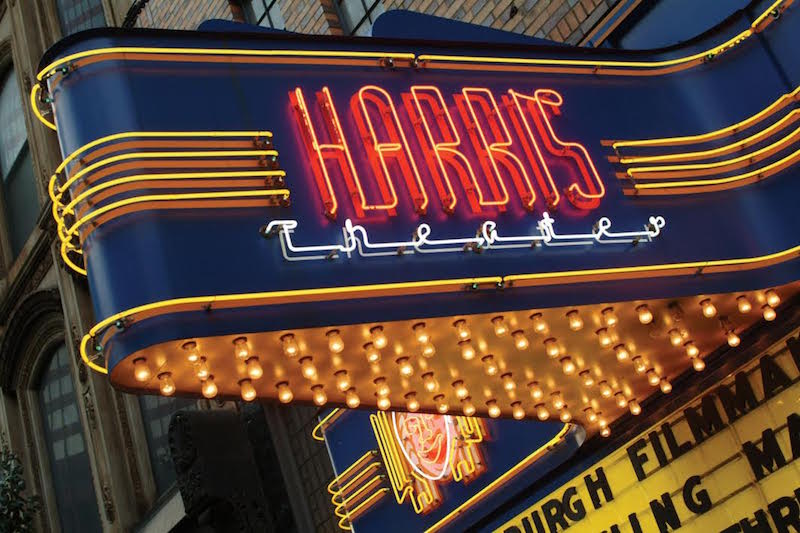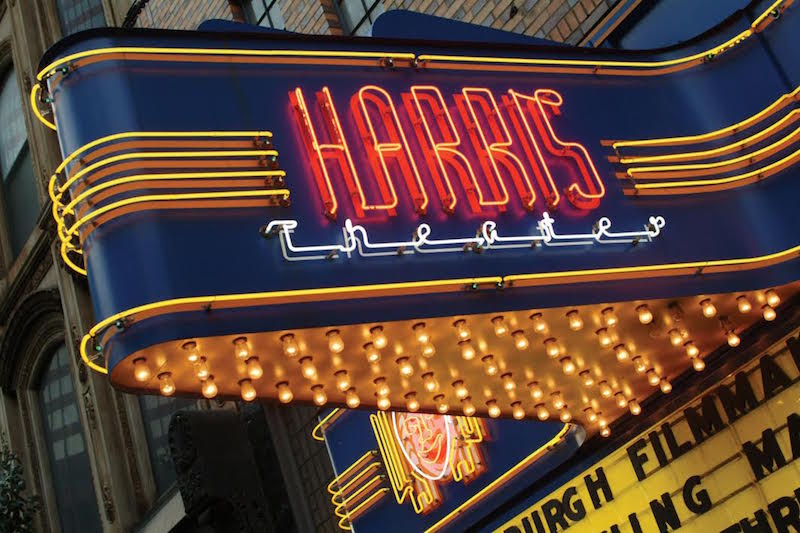 HARRIS THEATER
This theater is located in the middle of the cultural district and is run by the Pittsburgh Cultural Trust. It was originally Pittsburgh's first moving picture house, then called the Art Cinema. It reopened as the Harris Theater in 1995 and now plays art and independent films year-round. It's one of the locations for the Three Rivers Film Festival.
Most Notable Feature: The rich history of this cinema makes it worth visiting, as does the dazzling marquee (which is especially stunning when lit up).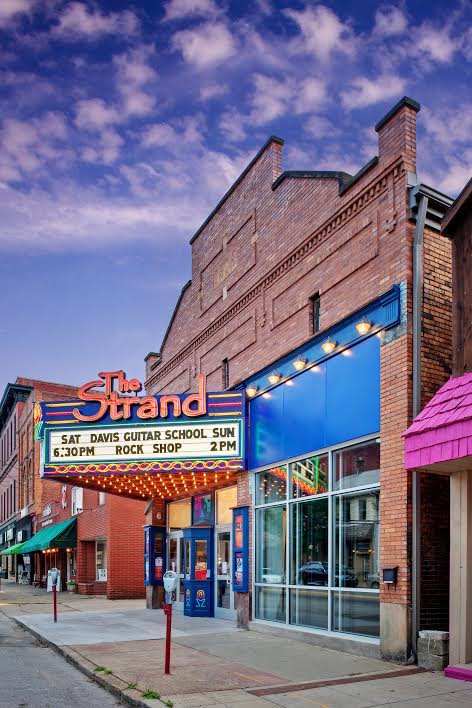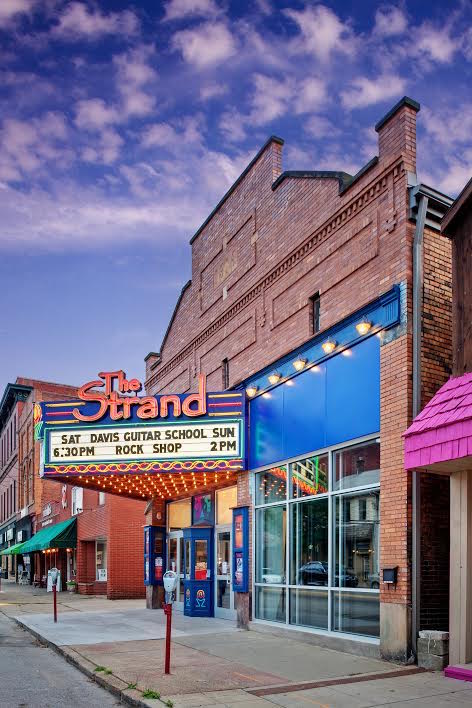 THE STRAND
While it's a bit of a drive to get to this Zelienople cinema, the array of films and shows scheduled makes the trip worthwhile. Everything from animated classics to live stand-up shows are on deck, and cover bands are also frequent highlights. There's also a store for the theater with limited edition prints and shirts on sale.
Most Notable Feature: The Strand offers a musical theater camp for kids 10-18 over the course of three weeks in the summer. In 2018, they performed Into the Woods Jr.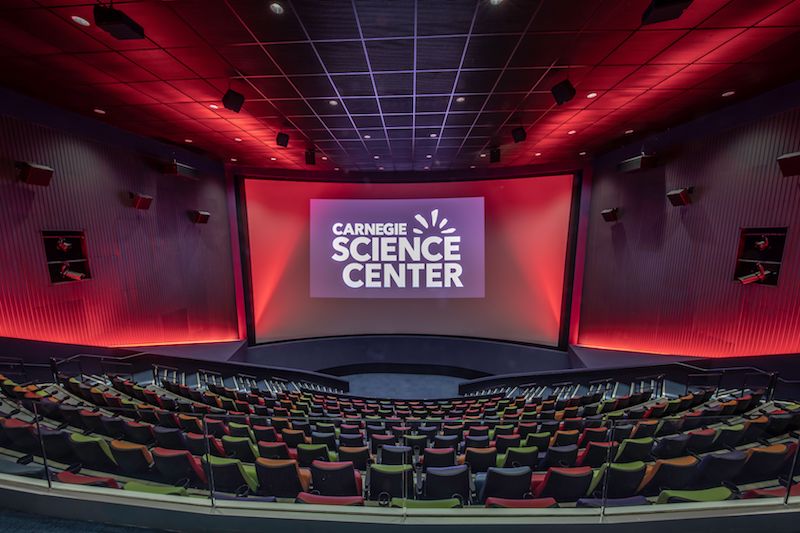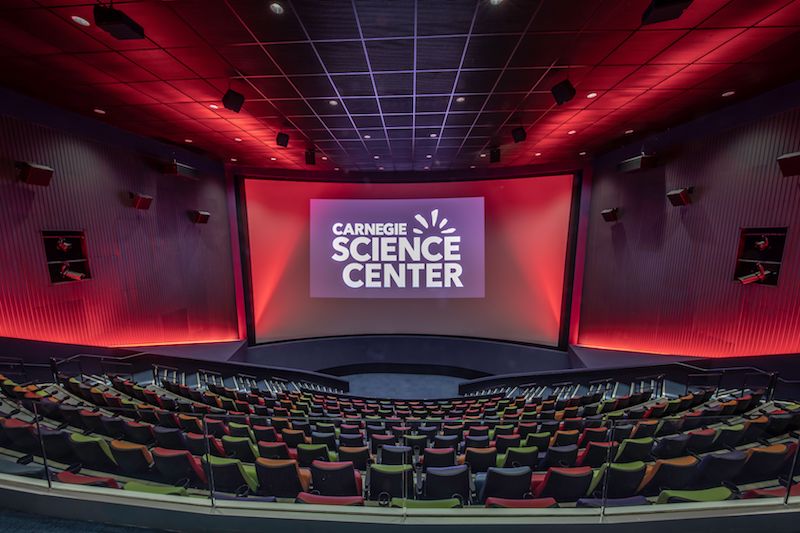 THE RANGOS GIANT CINEMA
For the ultimate "big screen" experience, there's no other option than the Rangos, located inside the Carnegie Science Center. While educational films are shown throughout the day (it is a museum, after all), at night the screen comes alive with classics and blockbusters in oversized glory.
Most Notable Feature: We're not exaggerating when we say that the theater has a. quite frankly, gigantic screen. The screen itself is 70 feet with two leading-industry laser illuminated 4K digital projectors and a surround sound system with 45 speakers.